15 Colour Creme to Powder Foundation Palette
Posted on July 20 2015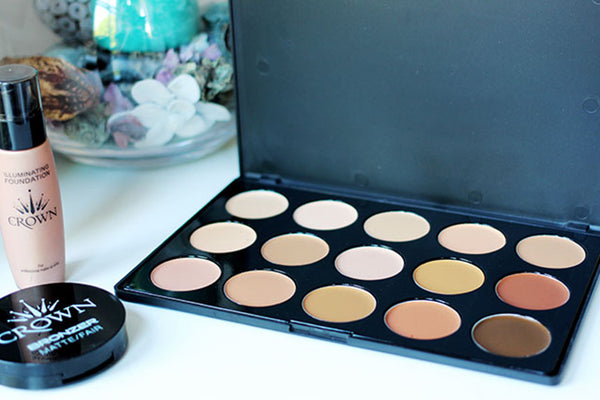 We have just launched 7 brand new make-up palettes, including this one here: The 15 Colour Creme to Powder Foundation Palette.
Lets take a closer look at the 15 Colour Creme to Powder Foundation Palette
Similar to our best selling 10 Colour Concealer palette, but with just a little bit more coverage. This palette offers up a full coverage, long lasting foundation in an array of shades suitable for light and fair skins, all the way to darker skin tones. Not sure if your shade is here? Don't worry. The formula is really easy to blend and allows your to custom mix your shade.
The cream to powder formula leaves your skin with a semi matte finish. Want more radiance? Mix it with our Illuminating Highlighter or use a radiance primer underneath first.
A fan of contouring? Yup, you guessed it, why not use this foundation palette to sculpt and define a perfect pair of cheek bones. Wake your skin up using the peach and yellow toned lighter shades. Or mix up your perfect shade to just cover some pesky blemishes.
The Colour Swatches
This palette is a great addition not only to someone's personal make-up stash, but is great for the professionals out there too. With matte black casing, you can store this easily in your kit which makes it ideal for travelling – a space saver!
You know you want one… Shop Our 15 Colour Creme to Powder Foundation Palette now.
The post 15 Colour Creme to Powder Foundation Palette appeared first on Crown Brush News & Events.