Which Makeup Brushes Are Used For What?
Posted on September 18 2020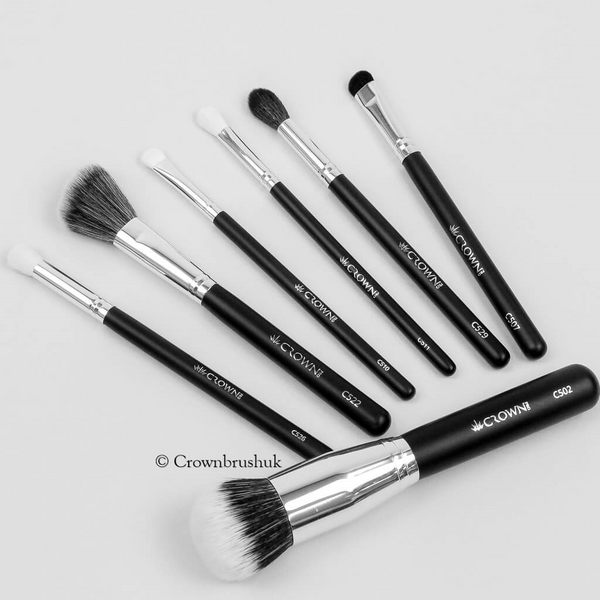 It's confusing, isn't it? There are so many makeup brushes in different shapes and sizes! Which brush is used for powder or for liquid? Which brush should be used to highlight your cheekbones and your cupid's bow? And no, not just any brush will do. Brushes are designed in a very specific way to create a particular look – once you find the right brush, you won't be disappointed.
Here's a fun fact before we get started. Makeup brushes originate from the ancient Egyptian times. But what has remained consistent until recent eras is their association with higher class, wealthier women. Servants would learn to use makeup brushes to apply makeup to their mistresses. It has only been in the last century that makeup brushes have become far more commonplace in everyday households.
Natural or synthetic makeup brushes?
A natural makeup brush set means all the bristles are made from animal hair. The bristles of synthetic makeup brushes are designed to mimic natural fibres and are made from material like nylon.
Synthetic makeup brushes are perfect for liquid products, like concealers, foundations, liquid eyeshadows and lipstick. They easily create the polished finish you're looking for. Crownbrush natural makeup brushes are ideal for powder makeups, such as powder foundation, blusher, bronzer, and contouring and highlighting powders. They tend to feel soft and silky.
Size and shape matter!
When you think of makeup brushes you'll know there are big fluffy brushes and small pointy brushes, there are even brushes shaped like fans. And they're all stunning!
Usually, the bigger the brush, the bigger the surface area they're designed to cover. Small brushes are designed to add details.
This is for foundation! They're big enough for you to be able cover the surface of your face quickly and the slight point means you can easily angle the foundation into the creases at the side of your nose and near your eyes.
The big, fluffy makeup brushes
Aren't they fun?! These are for powders. They easily hold the dry product and cover your face quickly to set a liquid base or to add contours or blush. Angled fluffy makeup brushes are designed to easily run underneath your cheekbones or down the side of your nose to create perfect contouring.
This brush is for highlighting. You want that perfectly sculpted look and this is the brush to add those final touches. Bring the sparkle using the fan brush and a bit of highlighter or bronzer to your temples, hairline and jawline.
The perfect wand for covering the eyelid in colour. It is small enough to direct colour wherever you need so a smaller head is ideal for colouring the eye socket-line.
This is the eyeshadow brush you use to blend makeup over your eyes. You can get oval or angled-shaped fluffy eyeshadow brushes. Great for smoky eyes and blending out a cut-crease line to make the effect more delicate.
This one is for filling in your eyebrows. It can also be great at adding in a sharp cut-crease into the socket line if you're going for a look reminiscent of Twiggy in the 1960's.
The tiny brushes
These are for the finishing touches, for your lips and eyeliner. No professional makeup brush kit is complete without them!
For the highest quality brushes at affordable prices, browse our gorgeous range today. Click here to view our collection.