How Many Makeup Brushes Do I Need?
Posted on October 09 2020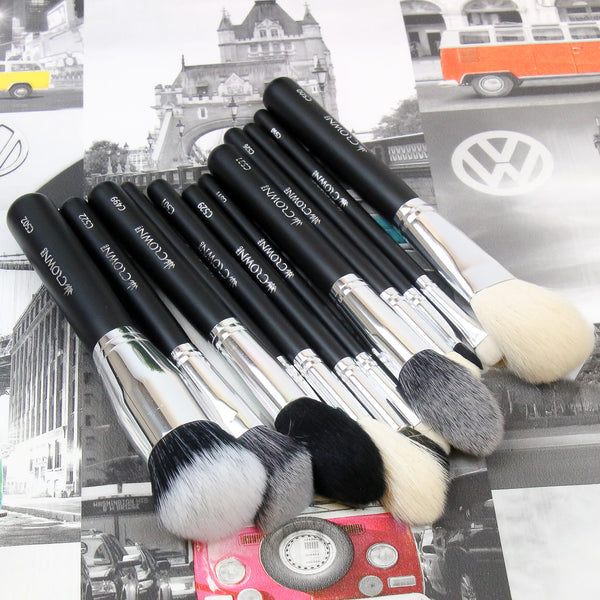 For the most beautiful appearance, it's important to have the correct makeup brush for your makeup base, eyes, and lips. With so many makeup brushes in our range, it can be a little confusing knowing which to buy as a priority. We're here to break it down for you. If you think about the different parts of your face and how you (hopefully) wouldn't use a large fluffy powder brush to put on your lipstick, it starts to become a little easier.
As a rule, you will want your professional makeup brush set to contain every single brush you need to make the magic happen!
On the other hand you should also have an essential makeup brush kit containing at least six or seven brushes. This set can also double up as your "travel brush kit".
Your professional makeup brush set
Your full makeup brush set should have the tools to create all your beauty looks. From the natural look you might wear to the gym to dramatic cut-crease eyes that you'd wear out on a Saturday night.
Brush-cleaning days are the best; lining them up to admire the full set of makeup brushes and preparing them with a spritz of brush cleaner ready for another week of beautifying! It's totally luxurious! Build up your makeup brush set by keeping an eye on our regular online offers.
At home you want every single brush at your disposal to look gorgeous!
Your professional quality makeup brushes should include:
For base makeup:
Concealer brush – you can also use this to highlight just under the eyebrows.
Foundation brush – essential for perfect skin.
Stippling brush  - for a smooth finish after using your foundation brush.
Powder brush – to set concealer and foundation in place with skin-coloured powder.
Two contouring brushes for contours and highlights – we all want Kardashian cheekbones!
Blusher brush – for gorgeous cheeks.
For eye makeup:
The eyebrow brush – essential for framing the face.
Wide eyeshadow brush – to cover the lid easily in colour.
Oval brush – to pack in colour for a more intense look. An absolute must.
Fluffy blending brush – to create a classy and subtle finish.
Eyeliner brush – will cat flicks ever go out of fashion?
For Lips:
Lipstick brush – no makeup look is complete without perfectly pouty lips. Lipstick makeup brushes ensure perfect coverage without leaving lipstick looking too heavy.
Your essential makeup brushes – for beginners or if you're travelling
Always start at the base and move forward to eyes then lips. Your essential makeup brush set will include:
Foundation brush
Powder brush
Pencil brush
Blending brush
Eyeliner brush
Lipstick brush
At Crownbrush we also have double-ended brushes which are great for when you're off on holiday and need to stream-line your kit.
How many makeup brushes you need is different for each person. If you're prone to spots then you might be more interested in foundation brushes and switch out an eyeshadow blender brush for a concealer brush, or if you're a person who is all about smokey eyes, then eyeshadow brushes might be your priority so you might ditch a lipstick brush (but how could you?). Consider your most important beauty goal and start there.
To discover high quality, affordable makeup brushes that are perfect for giving you the beauty look you deserve. Click here to view our collection.