Six Essential Eyeshadow Brushes
Posted on December 18 2015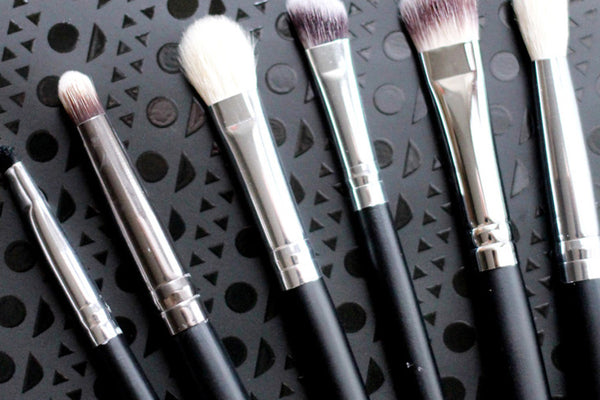 Time to upgrade from your sponge applicators folks and get your head around the idea of using different styles of eyeshadow brushes. Yes that is right, there are many different types of eye shadow brushes and in today's post our Head of Make-up Artistry Zoe Newlove will talk you through six of her essential  eyeshadow brushes…
When putting together eye make-up I always like to have a selection of eyeshadow brushes to hand. Don't get me wrong, you could quite easily just use one eyeshadow brush, to put together something simple like a wash of colour or a sweep of one tone, but to do something a little more detailed from that of a smokey eye or to a cut crease – then you will definitely need to have a few different tools to choose from.
TOP TIP: I always have at least 1-2 clean blending brushes to hand! Great for softening any harsh lines and blending together multiple shades.
In no particular order, lets go through a few of my favourite types:
The Angle.
Angled eye shadow brushes like this SS029 Angle Fluff are not only great for packing on eyeshadow, but for getting into the crease / socket line. This one is particularly great because it is small enough to take along the lower lash line too. I tend to use this when adding a darker colour into a smokey eye – as it allows for precision control over the shadow application but is soft enough to gently blend at the same time.

The Blender
Possibly my favourite brush – ever? Bold statement, but true. I have countless C433 Pro Blending Fluff brushes and this is because they are so bloomin' good at seamlessly and smoothly blending out your eyeshadows. You can sweep this brush back and forth against the crease or through your socket line / brow bone to get a really nice, blown out effect or to simply clean up any harsh lines. I actually panic if I don't have a clean one to hand, so always try to clean my blending brushes straight after use.
TOP TIP: Did you know you could also use a fluffy  blending brush to buff out any under eye concealer?
Blend The Crease
Not all fluffy brushes are the same you know? The C441 Pro Blending Crease has been designed particularly for blending through the socket line. If you are looking to add depth to your crease then you could take a matte, darker shade and use this fluffy brush to softly place it through the crease of your eye. Due to the cut of the brush, it is perfect for more precise blending.
Precision.
If you want something even more precise, for detailed eye looks or a quick and easy smokey eye then the C461 Infinity Precision Crease is one I would highly recommend. With the tapered "pencil" tip you can really control the movement of your eyeshadow or eye liner. I love using this brush to smudge out any kohl liner around the lash line, or to add little details whether that be highlighter to the inner corner or a dark, matte black to the outer edges.
The Original
We all own a brush like this, or I should hope so. Our SS011 Deluxe Oval Shadow is a rendition of simple eye shadow application. Pat, pat, pat. All you need to do with this one is sweep a wash of colour all over the eye lid and you are good to go. For those of you wanting to go wild and pack a lot of colour and product onto the lid, due to the soft, dense bristles this one is a great brush to choose. Great for working with both cream and powder as the brush hair is synthetic.
The Smudger
Smudging aka the key to a very simple smokey eye. This tiny brush is the perfect size of working product around the lash line, and allows you to be incredibly precise. The C326 Pro Precision Smudger, the name gives the game away. Works wonderfully with powder, cream and pencil products.
So there you have it guys, an in depth break down of the essential eyeshadow brush styles you need to get going with your eye make-up. We hope this helped and if you have any further questions then please feel free to drop us a message over on Twitter. Tweet @CrownbrushUK.
The post Six Essential Eyeshadow Brushes appeared first on Crown Brush News & Events.