Silicone Angle Liner Review
Posted on November 23 2015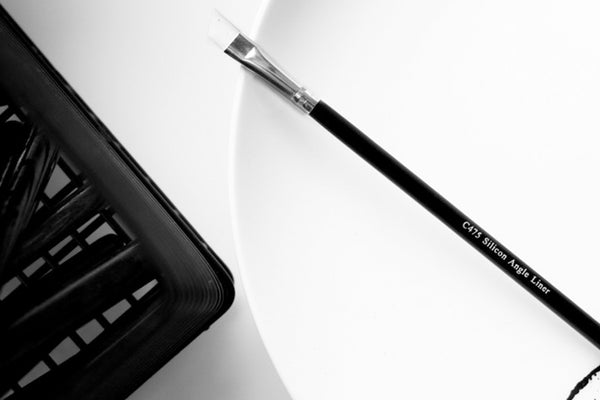 The latest addition to our make-up brush family: C475 Silicone Angle Liner Brush. Struggle with creating that perfect winged liner?
We know the feeling all too well.
Perfect for gel and liquid liner, this silicone angle liner allows to you to create precise lines. Bold graphic liner looks are made easy with the use of this brush. No stray hairs – as there are no brush hairs – so no need to worry about that slick line being disturbed.
Simply sweep the fine edge along your lash line. Head of Make-up Artistry Zoe Newlove recommends beginning in the centre of your lash line, and wiggling the brush right into the root of your lashes to ensure you place the eye liner as close to the lashes as possible. Press the brush with the product into the lash line, in both the inner and outer corners. Once you are happy with the shape, continue to sweep the silicone edge along the entire lash line and wing it out if you require.
The sharp, but delicate, edge offers you the best cut and precision for you to create a perfect winged eye liner look – every single time.
Very hygienic and easy to clean due to the silicone material.
Get your liner game on point right away. Shop Now.
The post Silicone Angle Liner Review appeared first on Crown Brush News & Events.