How To: Buy The Right Makeup Brush
Posted on August 28 2016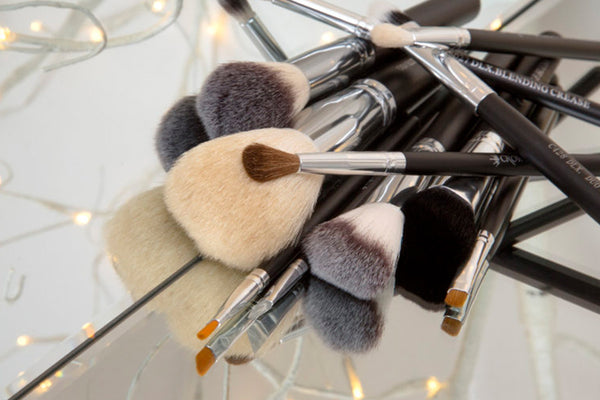 How to Buy the right Makeup Brush is something we all struggle with at the very beginning, it can sometimes be a little confusing as there is so much choice and everyone you talk to has an opinion on what is the RIGHT Brush!
So How to Buy the Right Makeup Brush:
The First question you need to answer is what do I want the Brush to do, Is it to apply Eyeshadow, Foundation, Powder, Contour, Highlighter, Bronzer, or is it to Blend, create definition, give you that perfect winged liner, help reshape your Brows, the questions seem never ending.
Once you have worked out exactly what you wish to use the brush for, then you have another choice to make, do you want to use a Natural Fibre Brush or a Synthetic Fibre tipped Brush, sometimes this decision is made for you, because its not advisable to use a Natural fibre with a liquid or creme product as this gets absorbed into the fibres and ends up clumpy and you use lots more of the product than you would if you used a synthetic brush.
So now you have worked out what you want to use the brush for and you have worked out what type of hair you wish for the brush to have, apart from working out how much you wish to spend on the brush, you are now down to the fun bit, the bit we all love, actually choosing the brush. We have so many variations of brush shape and style at Crown, we have a brush for everyone (or so we hope) but this sometimes makes the decision even harder. We are always here to help with any questions you have
Buy The Right Makeup Brush – Face Brushes
There are lots of variations of face brushes when you look into choosing the right one for you. Some people like Flat Topped, Dome Topped, Angled, Pointed really the list is growing all the time but what is important is you choose the brush that works for YOU! Some of our Most Popular Face Brushes are:
C406 – Large Duo Fibre Face Brush
C452 – Flat Foundation/Bronzer Brush
C473 – Studio Pro Contour Brush
SS001 – Deluxe Large Oval Foundation
SS022 – Syntho Jumbo Powder Brush
Buy The Right Makeup Brushes – Eye Brushes
Everyone tends to be quite particular about their Eye Brushes and with good reason, everyone's eyes are different shapes and sizes and the area that you are working on are a lot smaller than when working on Face application. Some of our most popular Eye Brushes are:
C433 – Pro Blending Fluff Brush
SS027 – Syntho Deluxe Blending Crease
C511 – Pro Blending Fluff Brush
C528 – Pro Crease Detail Brush
Just to name a few, we hope you have enjoyed reading and that we have helped answer some of your questions.
The post How To: Buy The Right Makeup Brush appeared first on Crown Brush News & Events.