Top Tips For Eye Makeup
Posted on June 30 2016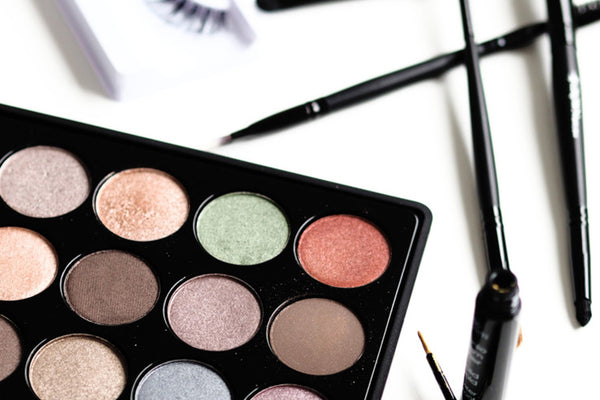 Eye makeup can be a little daunting at times especially if you usually like to stick to a slick of liner and a coat of mascara. Sometimes it's nice to step outside the box, maybe you have a special event to go to or just want to add some simple extra steps to your makeup routine to really make your eyes pop.  Today we are going to break it down for you and give you some of my top tips and tricks to creating the perfect eye look.
Where to start your Eye Makeup
Prime: Before we do anything it's important to use a Primer, this is going to help your eyeshadows last longer. It's going to make any shadow you apply more pigmented and it will also stop shadows creasing. Apply the HD Under Eye Primer all over the eye area up to the brow bone.
Picking the Best Shadows for You: When it comes to picking eye shadows all you really need is 3-4 shades. A highlighter shade to highlight the brow bone and inner corners, a matte mid tone and a contour shade.  These are all going to create a great shape and shadow which is what we are after.
There are many different eyeshadow shades to enhance your eye colour. If you have Brown eyes try and go for warm reddish brown/golden shades, these are going to add depth to your eyes. Also if you opt for shadows with metallic flecks these will bring out any golden tones you may have, We would recommend picking up the 35 Colour Metal Madness Palette. This palette comes in a sleek black case, ideal for travelling with and it contains a number of gorgeous shadows from neutrals to brights, it would be a great essential for weddings, Makeup artists and photography.
If you have Green eyes choose plum shades to really make your eyes look more vibrant and pop! Blue eyes opt for taupes, purples and warm golden browns all of these shades are going to emphasis the eyes beautifully. Those with Hazel eyes can pick shades from the Green eyes and Brown Eyes family, a soft matte brown on the lid with a golden shimmer in the center is going to look really pretty.
What tools to use:
Eye makeup can be pretty simple when you have the right tools. We think many people assume they need to buy all the brushes in the world but you really only need around 3-4 brushes to create a simple look. We like to have a flat brush for shadows and pigments, a small smudger brush for detailed work, a blending brush and liner brush. The 614 All Eyes On You Set contains 5 professional quality brushes for the eyes and is an essential in my makeup kit.
We also recommend getting a good pair of tweezers for your kit, not only is this great for keeping the brows well groomed on the go they are also great for applying lashes. By using tweezers you can ensure you get the lash band really close to the natural lash line for a seamless natural application.
Bright Eyes: Do you struggle with looking quite tired? Do you have quite small eyes and want to make them appear bigger? We have a few tips that are going to help you.
Add light shimmery shadow to the inner corner to open up and brighten eyes
Curl your lashes to really open up the eyes
Apply a nude or white liner in the waterline to appear more awake
We hope you enjoyed these simple Eye Makeup tips, We would love to know your top tip when it comes to the eyes!
Shop Here for Crownbrush Brushes
The post Top Tips For Eye Makeup appeared first on Crown Brush News & Events.