How To Survive London Fashion Week
Posted on February 19 2016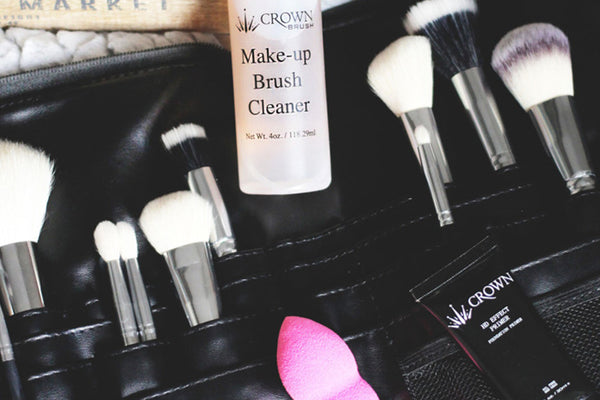 It is that time of year again, where the fashion and beauty industries align and the Earth goes into craziness overdrive. Today our Head of Make-up Artistry Zoe Newlove has put together some of her top tips on how to survive London Fashion week.
Whether you are a make-up artist working backstage on the shows or running around attending the shows themselves, you will thank yourself later when you begin each jam packed day with fresh, new make-up brushes.
What we took with us
Use our Make-up Brush Cleaner to keep your brushes nice and clean, no one likes to spend an extra 10 minutes searching for a clean  blending brush in the morning. Also great to keep your professional kits stocked up with our cleaner, so you can give your brushes a quick refresh in between your show schedules. No one wants to work with dirty brushes.
A great way to keep all of your make-up brushes and tools neat and tidy is with our new A9 Professional Apron.   You can slide it into your favourite tote bag or throw it into your kit bag.
You will want your base to stay on all day long, with no time to reapply your make-up. You will of course also want to be looking your absolute best, what with all the street style photographers lurking around every corner. With this in mind our HD Effect Primer will be your best friend. We all have that one foundation we can rely on to get us through from AM to PM, apply yours easily with our Flawless Face Blender.
Who We teamed up with
This year I will be on the Benefit Cosmetics Trend Team, once again assisting the wonderfully talented Lisa Potter Dixon. Her book, Easy On The Eyes,  is such a fantastic read and is full of awesome ideas helping you to create quick and easy eye make-up looks. Whether you play with eyeshadow, our Pure Exposed Palette is a keeper, or if you want to experiment with the graphic liner trend using our Gel Eye Liner pots, make sure your make-up is on point for LFW.
Other things to take note of, if you choose to strut around in your favourite pair of heels, at some point you will wish you had worn flat shoes. Trust me. So keep a pair to change into in your bag.
A note pad and camera are always good essentials too. Don't miss a moment to scribble down inspiration or to capture your favourite piece on the runway.
Fashionistas, students, bloggers try to carry your business cards on you. London Fashion Week is a great time for networking. Even if you cannot get into any of the shows (they are by invitation only) it is great to get caught up in the atmosphere of it all.
You can see all the products used by Crownbrush on our website: Shop
The post How To Survive London Fashion Week appeared first on Crown Brush News & Events.