How to Clean Your Makeup Brushes
Posted on August 11 2015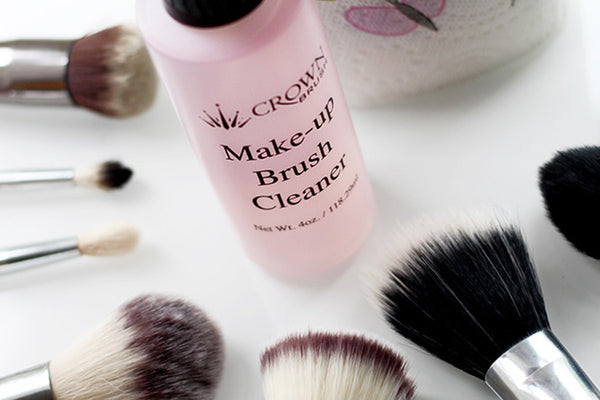 Ah the infamous question: How to Clean your Makeup Brushes?
A question we hear time and time, and time and time again. 
To ensure you get the maximum life out of our brushes, you must maintain their condition by regularly cleaning them. Be it once a week or more often depending on what you use them for e.g. numerous clients will mean you need to clean them between each use.
About our Brush Cleaner
Our Make-up Brush Cleaner is designed to enhance the performance and prolong the life of your Crownbrush make-up brushes. It dissolves the build up of grime, make-up and oil. It is ideal for cleaning both natural and synthetic hair brushes when you don't have time to wash them and wait for them to dry overnight. It will quickly remove light traces of make-up in between applications.
All you need to do:
Spray this purifying formula onto a piece of kitchen roll (See above) or directly onto the brush bristles.
Lightly wipe your brush for an instant dose of freshness
For more stubborn stains, such as lip stick, soak the brush head (only) for up to 10 minutes then rinse and dry afterwards.
We do recommend you "deep clean" your make-up brushes once a month.
Caution: Do not get in eyes. If in contact with eyes flush with water for 15 mins.
If swallowed drink large quantity of water.
If swallowed or eye contact call a physician
The post How to Clean Your Makeup Brushes appeared first on Crown Brush News & Events.