Bridal Makeup Tips
Posted on November 14 2016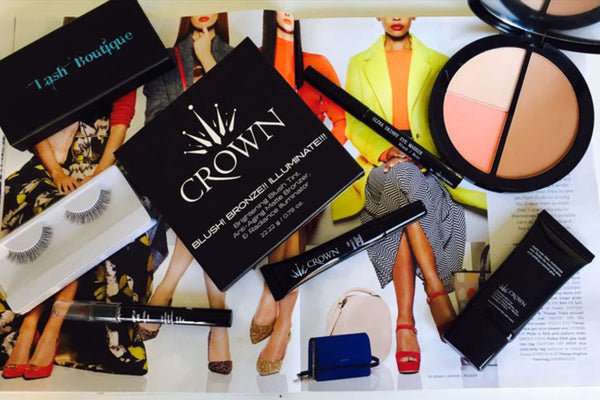 We can all take a breath that wedding season is now finished, and with this in mind we wanted to share with you some of our expert Bridal Makeup Tips. Whether you are hiring a professional makeup artist or going at it alone; there are key components to consider when creating your perfect bridal look. Check out our latest bridal trends & tips to help you on your way.
Bridal Makeup Tips & Trends
Retro Glam Big curls, va-va-voom red lips and a classic cat-eye is becoming more popular. This timeless Hollywood glamour look is perfect for the red-lip lovers, and those who want to emphasise the makeup around a bold lip colour. Our Chubby Lip Pencils  are so easy for an instant lip colour and Moroccan Bazaar being a perfect option for the ultimate glamour red. Want a longer-lasting lip? Then use a lip liner all over the lip before you apply your lipstick.
False lashes are almost a necessity for a retro glam look. With all the different styles and textures you can choose from, you can find your perfect lash match. Our makeup artists recommend the Demi Lashes or the Melanie lashes  for bridal makeup. They are both natural looking and comfortable to wear all day long. Check out our top tips here  for perfect lash application.
Whimsical Nudes  Bohemian, carefree, ethereal skin and fresh makeup. A perfect look for those who aren't into wearing lots of makeup and don't want to fuss with touching up makeup during the day. Strategic concealing, with minimal foundation is the way forward. Keep the skin looking glowing and healthy with a touch of bronze and glow. Our best-selling Blush Bronze Illuminate will tick all the boxes for a no-fuss makeup girl.
Earthy Smokey Nudes Smokey eyes aren't just for those nights out. If you like enhancing your eyes and often wear dark shades, then play on this and opt for earthy browns, bronzes and greys to enhance your eye colour. Our Chubby Eye Pencils give a great payoff of colour and come in a variety of shades.
English Rose Think fresh pink cheeks, rosy lips and softly lined eyes. This plays on natural beauty without being overdone. Neutral washes of colour and shimmer keep the eyes sparkling and fresh. A classic black feline flick will enhance and give depth to your lash line. Our Ultra Skinny Eyeliner allows for lining precision and definition with ease. To get a pink perfect look, try doubling up on both the lips AND cheeks. Yes it really works!
Our Top Bridal Makeup Tips

Prime, Prime & Prime some more! Prep the skin properly and prime ALL areas of the face to ensure makeup longevity. You want to enjoy eating, dancing & socialising without worrying about makeup sliding off your face. Makeup artist's love our HD Foundation primer to keep bases looking smooth & perfect all day. Our HD Under Eye Primer keeps concealers and under-eye brighteners locked on with no creasing or slip.
Have a scrapbook/ pin board/ references of bridal makeup you like. This will also make it easier for the makeup artist to achieve what you want, if you are using a professional. Remember what looks good on Kim Kardashian may not suit your personal face shape and features.
Trial it a few weeks before the big day. Give your makeup a little test-run with the hair to see how it all fits together…and wear a similar colour to your dress. If it doesn't work, you still have plenty of time to try different looks.
MAKEUP ARTIST TIP: Once you have applied your bridal look then get a friend to take some pictures of it in different lighting both inside and outside. This will help you decide if you need more eyes/cheek colour/lips etc. The camera can really wash out the makeup. You want a happy medium of where the makeup looks great both in photographs and to the naked eye.
Go easy on the highlight. We all love strobing and glowing skin at the moment, but this can be very tricky for looking good on camera. Too much highlight will enhance open pores and make you look greasy as opposed to glowy. So be very strategic where you apply that glow. Our experts at Crownbrush HQ suggest mixing a touch of our liquid highlighter in with your foundation to give a soft ethereal glow all over.
Have a few key touch-up products in your bag. Or with a bridesmaid; lash glue, lip colour, concealer and powder. Just in case of any mishaps during the day, you can quick-fix most problems with a few key products.
The most important thing = BE YOU! You want to look and feel like yourself on the big day. The more comfortable you feel, the more you will be relaxed and have the best day!
The post Bridal Makeup Tips appeared first on Crown Brush News & Events.