7 Piece Gun Metal Travel Brush Set
Posted on January 07 2016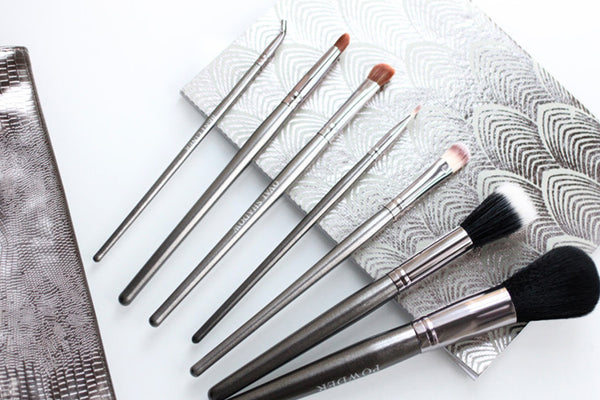 Say hello to our brand new make-up brush set: 7 PC Gun Metal Travel Brush Set.
Perfect for throwing in your hand bag or suitcase, never be without your favourite Crownbrush make-up brushes again. There is everything you need to create a full face of make-up in this kit.
Now whats Included in the set?
1 X Powder Brush |Ideal for bronzer and setting powder!
1 X Duo Fiber Foundation Blender | Blend your liquid and cream foundation seamlessly!
1 X Oval Concealer Brush |Great for liquid and cream concealer!
1 X Oval Eye Shadow Brush | Perfect for packing on powder eyeshadow!
1 X Round Crease Brush| Blend out eye liner and add definition to your socket!
1 X Bent Eyeliner Brush | Great with gel and liquid liner!
1 X Oval Lip Brush | Get your lipstick on point – use a brush!
All these come neatly within their own Silver case. The case is 22cm long and the Powder brush is 20cm Long to give you an idea on the size of the set.
You can find the set here: 7 Piece Gun Metal Travel Set
The post 7 Piece Gun Metal Travel Brush Set appeared first on Crown Brush News & Events.