Lashes – Whats Hot!
Posted on August 09 2016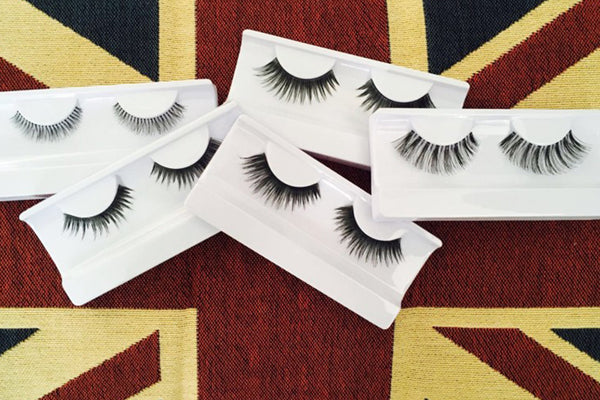 The lashes trend is not going anywhere this season and whether it is holidays, festivals, pool parties or just day-to-day glam times, eye-catching makeup is easy to achieve with the right pair of false lashes to finish your look.
They don't have to LOOK false; with so many textures, lengths and fits available now, you will always be able to find something to fit your preferred look and eye shape. Remember you can trim them down or even cut them in pieces to customise your lash look. If you love a high-impact lash then try layering a couple of pairs on top of one another for ultimate excess and drama. Don't be afraid to experiment and try out new ways of wearing them.
With our new Lashes,  we currently have 12 styles to choose from so there is something for every occasion and look.
 WHICH LASHES?
We can recommend a few of our favourites for you! If you have a naturally short lash and are a bit fearful of the general fake lash look then you need to try the Clair's ; the ultimate natural lash and perfect for natural enhancement. These are also super light and comfortable to wear. If you like a bit more drama then our best-selling Lainey's or Demi's are long, fluttery and suitable for a day or an evening look…both favourites for our makeup artists. If you need full-blown impact in your makeup life, and love a thick, sultry lash then Jenny's pack a punch and give that super glam look.
Remember to take into consideration your eye shape and size when choosing your lashes. Some eyes suit a cat-eye lash that enhance the outer corners and some shapes suit a more doll-eyed lash where the longest lashes are in the centre of the eye. If you have small eyes, a thick/heavy set of false lashes will make the eyes look smaller, whereas a softer, longer lash will open the eyes. Have a play around with different shapes on yourself to see what looks best.
LASH APPLICATION TIPS:
– Apply your falsies last. They should be the last step in your makeup routine (yes, after mascara) and the first thing to come off!
– TRIM your lashes. Use a pair of sharp nail scissors to nip of the ends from the outside of the lash so they fit ¾ of your lash line. They will stay on longer and be SO much more comfortable.
– Once you have applied the glue (lightly) along the lash strip, wait 15 seconds for the glue to go tacky/begin to dry. This will ensure they will stick quickly rather than move/slide about which can make application a little trickier.
– Use a pair of tweezers to place them onto the lash line, then flip them around and use the end of your tweezers to push them into place & really focus on the inner corners.
– Always use a black liquid or gel liner to cover the lash line and ensure the lash strip isn't visible. We love our Ultra Skinny Eyeliner  for this!
We hope these tips are helpful and remember if you look after & remove your lashes properly, then you can re-use ours up to 10 times.
The post Lashes – Whats Hot! appeared first on Crown Brush News & Events.