Rose Gold Vegan Brush Set
Posted on June 01 2021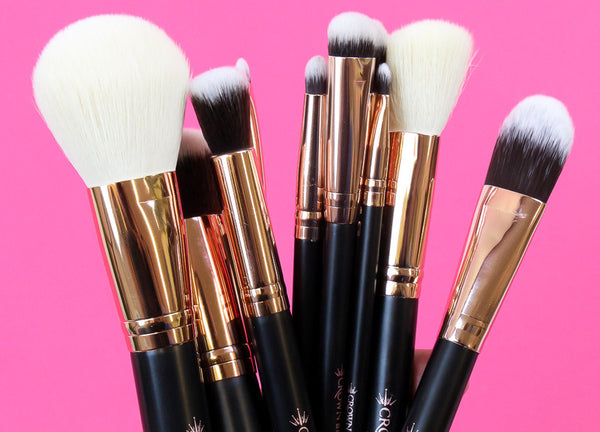 Rose Gold Vegan Makeup Brush Set
It's been quite a while since we have released any new Makeup Brushes or Brush Sets, and we thought instead of just releasing one new Brush Set we would launch 3 in quick succession. So, to kick us off, let us introduce you to our Beautiful Rose Gold Makeup Brush Set, boasting 11 Professional Makeup Brushes and a sleek Black case to keep all your new makeup brushes in one safe place making them easy to move around if your going away for the night or on holiday.
These 11 professional Makeup brushes are suitable for vegans, all of the brushes are synthetic making them extremely versatile, they can be used with Powder, crème or liquid products and one of the best bits of synthetic fibres, they are SO easy to clean! Bonus, because we must keep our brushes super clean, see our advice on how to clean your Makeup brushes here. click here
Face and Eye Brushes
This brush set has a selection of makeup brushes, from face brushes for your Blusher, Powder and Foundation to eye makeup brushes to pack on colour or get that seamless blend and give your eyes that smokey look and more detailed brushes that can be used for lips or winged liner, all of these brushes can help you achieve that flawless natural looking makeup.
They are all incredibly soft, (I literally sit here stroking my face with the samples I was given) but they also hold the makeup product perfectly meaning you get a smooth even application, none of that awful streaky, uneven tones.
Hope you enjoyed reading this insight into this new makeup brush set and if you have any questions the please get in touch with any of us at Crownbrush.
This gorgeous brush set retails at £39.99, What are you waiting for!