London Fashion Week Sophia Webster Show AW2017
Posted on September 21 2015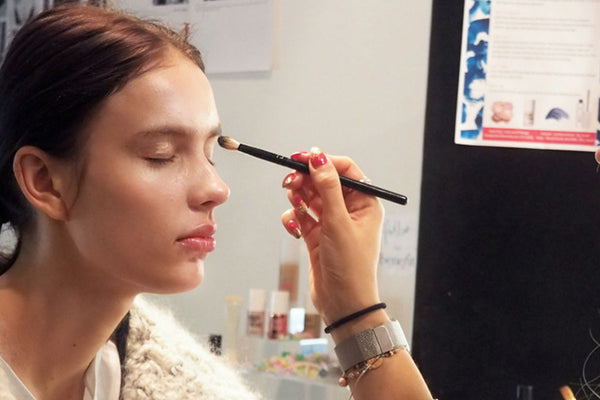 Another round of London Fashion Week and once again Crownbrush UK could be found backstage alongside the Benefit Cosmetics #TrendTeam headed up by Make-up Artist Lisa Potter-Dixon. This time they were backstage for the Sophia Webster show with hair team Bumble and Bumble.
Our very own Head of Make-up Artistry Zoe Newlove was also on the team and captured lots of our brushes in action.
Lets take a look backstage at the Sophia Webster Show
Lisa took to using our BK38 Luna Badger Crease brush for a multitude of techniques from buffing in highlighter and concealer, to applying eye primer and blending in finishing touches on the skin.
One of our newer additions to the Crownbrush family, the C474 Silicone Pointed Crease brush, as photographed above, was used to apply glitter to the inner corners of the eyes – the key feature of the look.
Top Tip: To create a sharp edge with the glitter, place a small section of tape underneath the area to catch any fall out.
For natural, fresh looking skin Benefit Cosmetics Hello Flawless foundation and High Beam illuminator was buffed into the skin using our C436 Mini Duo Fibre Blender brush. Want seamless skin? This is the brush for you.
The lip brush loved by Zoe & Lisa backstage, is our SS031 Deluxe lip. The perfect size and shape for any type of lip application. In this case, the brush was used to apply Benefit Cosmetics Posie Tint to give the lips a pink flush.
Some of the finished looks at the Sophia Webster Show
Looks like the girls had a lot of fun creating the mermaid inspired look for Sophia Webster Show. Have you been inspired to add some London Fashion Week make-up brush essentials to your kits? We found the whole week amazing and cannot wait until next year!
The post London Fashion Week Sophia Webster Show AW2017 appeared first on Crown Brush News & Events.