Choosing the Best Makeup Brush Set - Pro Essentials Insight
Posted on November 16 2018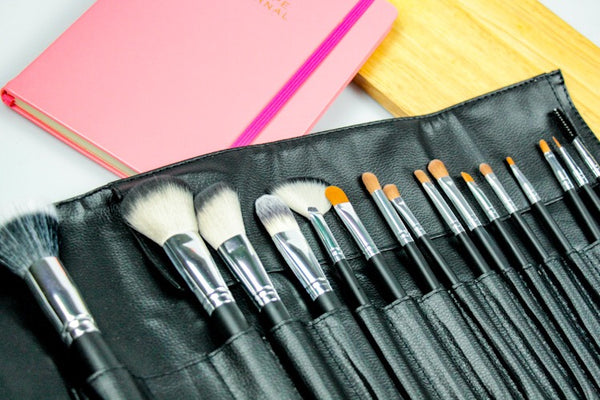 Where to start when choosing the right Makeup Brush Set?
It's a question we are asked all the time. Here at the Crownbrush European Head Quarters we've decided to put together a series of Blog posts, giving you the inside scoop on each of our sets. Let's jump straight in with our Number one Brush Set, introducing the 'Pro Essentials Brush Set'.
So, who is it for?
This set is ideal if you are starting your make up journey be that as a student or getting your very first set of Makeup brushes (best day ever.) Perhaps you are overhauling your current makeup brush collection, out with the old and in with the new! Each of the 15 Makeup brushes within this Makeup Brush Set have been perfectly selected resulting in a comprehensive, cruelty free brush set.  There is a brush for every job, from Brows to Lips, Complexion to Blush.
What is included in the Brush Set:
Domed Powder Brush – This large soft brush will be your go-to for flawless application of powder products.  A big tick for Blush, Bronzer, Powder Contour Products.
Stipple Brush – Light fluffy feel, great for blending out cream and liquid products with the lightest of finishes. Perfect for Foundation applied in circular motions.
Angled Blusher Brush – Perfect for sculpting under the cheek bones, this brush is super soft. The go to brush for Blush Products, Highlighter, Contour Products.
Oval Foundation Brush– A favourite for liquid foundation products, use as you would a paintbrush, in light strokes across the face and neck. Great for Foundation and Primer.
Oval Concealer Brush – Perfect shape to get right in under the eyes with cream and liquid concealer products. Also great for adding correctional colours where needed. For all your concealer and correction needs. 
Pointed Crease Brush- Use this eye brush is great to pack on colour into the crease, essential for smokey and sultry eye looks.  Can be used with all eye shadow products, from set pans to pigments. 
Detail Shadow Brush – This brush is an absolutely a must have for detailing around the eye and split crease work.  Soft dense short bristles give a high level of control of the product.  Use with Powders or creams.
 Angle Liner Brush – Precision liner for liquids and Gels.
Deluxe Soft Fan Brush – Glow baby Glow, the fluffiest member if the family this brush glides over the skin applying the perfect amount of highlight. Great with Powder highlighter products.
Angle Shadow Brush- When creating intricate eye make up its essential to have an angled shadow brush in your kit. This brush is soft and dense and can be used with powder eyeshadows.
 Mascara Spoolie Brush – Essential part of any kit, used to tame brows and separate lashes prior to product application.
 Mini Smudger Brush – For intricate detailing around the eye, ideal for getting under the lower lash line. Perfect with powder and cream eye products.
 Pointed Liner Brush – Precision brush for liquid and gel eyeliners
 Oval Lip Brush – A must have in any kit, for hygiene and silky-smooth application of lip products. Ideal for Lipstick, Lip stain's and Gloss
 Oval Shadow Brush- Eye Brush, great for blending out the lines of product applied with the crease brush.
The set comes in its own Faux Leather Travel Case, perfect for hygienically storing your brushes. At just £54.99 its amazing value for a full set of professional quality make up brushes.  If you have any questions regarding the Pro Essentials Brush Set please do not hesitate to chat with us. Click here to shop this Beautiful Set.
Hope you enjoyed reading this and it gave you some more information about this Brush Set. X