35 Colour Rose Gold Eye Shadow Palette
Posted on January 10 2017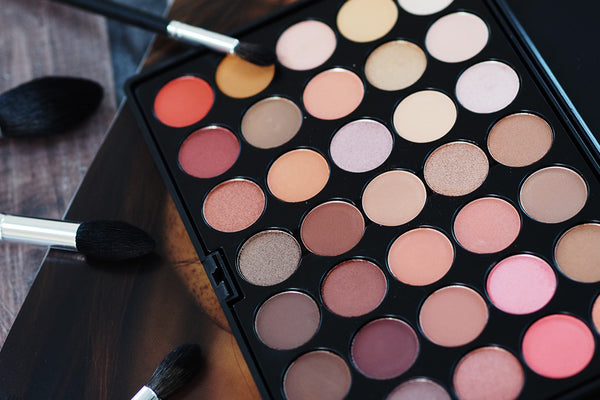 You are 100% guaranteed to pay attention, to anything, with the words rose gold written in the description. No exceptions, because rose gold is just too damn pretty to ignore. Say hello to the latest eye shadow palette from Crownbrush, the 35 Colour Rose Gold Eye shadow Palette.
What's in the 35 Colour Rose Gold Eye Shadow Palette?
The 35 Colour Rose Gold Eye Shadow Palette is filled with a beautiful array of colours, covering everything from your every day matte neutrals and browns, to warm golds and pinks, and frosted lighter shades. Whether you simply like to apply a wash of colour to your lid, or create a more in depth eye look, there is everything you need, all in one sleek, black palette.
Each shadow in the 35 Colour Rose Gold Eye Shadow Palette is highly pigmented with great colour pay off, which transfers from brush to skin with the ultimate ease. The formula is so easy to blend and apply, and can be built up with little fall out.
TOP TIP: Apply your eye make-up first before applying your foundation. You can clean up any mistakes afterwards and have a fresh base to work on.
Not sure where to start?
In the bottom left hand corner, is a matte red shade. You might be nervous to try a shade like this. If you apply a little to the inner socket, especially if you have blue eyes, you will find your eyes instantly sparkle and your face will be instantly warmer. All of the metallic shades are stunning. For a more intense finish, use your ring finger to pat more colour into the centre of your lid. Feeling and looking tired after too many parties this festive season? Pop a light shimmer or white shadow in the inner corners of your eyes, and you will look more awake. Experiment and try layering a couple of washes of colour, or using a wet brush to apply shadow underneath your lash line for a simple pop of colour.
And of course, no eye shadow palette would be complete with a handful of dark matte browns. You can create your favourite smokey eye in no time at all.
TOP TIP: No eyeshadow primer? Use a cream concealer all over the eye lid before applying your shadow, this will work just as well.
Whether you are a makeup fanatic, a make-up artist or simply just an eye shadow palette hoarder, this palette caters to everyone.
Shop the Palette here: 35 Colour Rose Gold Palette
Thanks for reading.
X
The post 35 Colour Rose Gold Eye Shadow Palette appeared first on Crown Brush News & Events.