Taking your Makeup abroad?
Posted on June 02 2023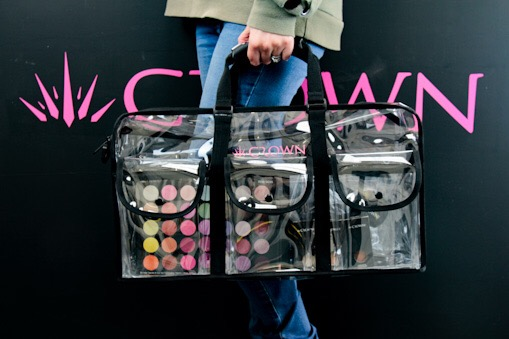 Are you going abroad this summer and wanting to take your makeup with you? Or are you travelling abroad for work and taking your whole Makeup kit with you for a wedding perhaps?
At Crownbrush we have a selection of bags to make travelling with your Makeup easier. Have you seen our Makeup Trolley Case? Click Here
Packing to go abroad is always stressful and worrying about what makeup you want to take versus what you can take adds another level of anxiety. If you are a Professional Makeup Artist, do you use a check list to ensure you don't forget essential products and ones that you and your bride might have chosen for her wedding makeup.
So first, how are you carrying your makeup? Hand luggage or checked in bags? If you are like me its always checked in luggage as I need as much space as possible. But if you are managing to fit your makeup in with your clothes and shoes and carry it all in your hand luggage then we have some amazing small bags that are perfect for the job, you can see them here:  Makeup Bags
Some people recommended that you pack your makeup in your hand luggage instead of your hold luggage for a few reasons like the temperature and pressure in the hold on the aeroplane can sometimes cause damage to your makeup, causing them to melt or break. On top of this stress what about if your luggage gets lost or delayed! At least if it's all in your hand luggage you will still have your essential makeup products with you.
Try to remember it is not necessary to take all your makeup with you when you go on holiday😊 You could try to pack only the essential products that you use daily to keep your makeup bag light and compact, but that in itself isn't an easy task either.
You can also buy some travel-sized versions of your favourite products or decanting them into smaller containers to save space.
Professional Makeup Artists will always check in their kits because they have to take so much to ensure that every makeup eventuality is covered. If you want to upgrade your trolley case, then check out our one, it comes with 4 detachable bags inside so you can organise your kit and they have clear lids so it makes it really easy for you to be able to see what is in each bag.
There are so many rules and restrictions that we must follow, here are just a few of the most common/key ones:
Rules around powdered products – restrictions introduced in June'18, state you can only take 12oz or powdered items such as blush or setting powder. Any more means more checks and that means more delays, and no one wants that!
Vaseline is classified as a gel liquid – so follow the liquid rules.
Items considered liquid cosmetics – Nail Polish, Perfume, Moisturizers, Eyeliners, Foundation & Mascara
What if I buy some makeup from Duty Free?
We all love a bit of shopping in the airport, so if you do buy some, try to keep it sealed until you've reached your hotel and keep the receipt handy to prove you have only just purchased it.
Since 2006, taking makeup on a plane got a little bit harder.
If possible pack liquids/makeup in your hold/checked in luggage, this means you can take more and don't have to worry about the volume of each product that you want to take with you.
Hand luggage:
Liquids, contains no more than 100ml, single transparent, resealable plastic bag, which holds no more than a litre and measures approx 20cm x 20cm
Contents must fit comfortably inside the bag.
Bag must not be knotted or tied at top.
1 plastic bag per passenger
Show at the airport security
Don't forget to take your Crownbrush Makeup brushes with you, there are no restrictions on those, apart from weight don't take too many. We have some amazing brush sets and travel makeup brush sets which have been designed to be taken away on holiday. See all our Brush Sets here
Travelling with Makeup Tips
1/ Make a plan and focus on essential products. You can take out non-essential products and focus on duplicates and multi-use products to reduce the amount you need to fit into your makeup bag.
2/ Buy a good makeup bag that will help keep your products safe and secure and easy to carry through airport security.
3/ If you choose to pack your makeup in your carry-on luggage, put your makeup bag in the middle of your case and surround it with soft clothes.
4/ Be creative and pack versatile products that can be used for multiple purposes, such as a tinted moisturizer that can act as both a foundation and sunscreen.
Remember to check the TSA guidelines for liquids to ensure your makeup items comply with the regulations.