London Fashion Week Backstage with Sophia Webster & Benefit Cosmetics
Posted on February 26 2016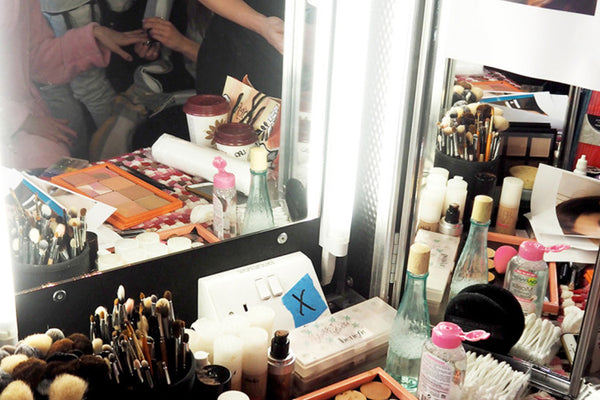 So another season, another London Fashion Week finished. Our Head of Make-up Artistry Zoe Newlove was invited back to be on the Benefit Cosmetics Trend Team again this year. Lisa Potter Dixon was once again heading up the Sophia Webster show and the theme this year was inspired by the amazing movie Corpse Bride. All the make-up artist's had their favourite Crownbrush make-up brushes at the ready….
Sophia's collection inspired by her muse Beetlejuice, revolved around gothic romance. Dark embellishments and satin clothing. Lisa designed the make-up look to compliment this creating feral brows and deeply contoured eye sockets.
Official make up look for the Sophia Webster show A/W 2016-02-11
Created by Lisa Potter-Dixon using Benefit Cosmetics.
Step 1
Mix Hello flawless Oxygen Wow Liquid foundation, one shade lighter than the skin tone, with a white face paint to create a pale, nude, drained skin tone. Blend all over the face using fingers.
Step 2
For the eyes, layer Hoola bronzer, onto the lid, slightly over the brow and under the eye down to the top of the cheekbone to create a hollow shape. Layer and blend numerous times to create depth of colour.
Step 3
To frame the eye further, blend quick, look busy velvet eye shadow, under the lower lash line and onto the eye lid. Buff to perfection. There should be no hard lines.
Step 4
To finish the eyes, and to add a lighter dimension, blend Coralista blusher above, and slightly under the brow.
Step 5
Next, create a bold eyebrow by drawing hair like strokes with Browzings deep and Bad Gal Waterproof liner in black. Add extra volume by brushing Gimme Brow medium/deep over the top, away from the hair first, and then back with the hair.
Step 6
For the lips, begin by knocking back the natural lip tone with a combination of foundation and Boi-ing concealer. Custom blend the lipstick shade by mixing boi-ing concealer in your natural skin tone, with air kiss hydrating lipstick. In the centre of the lip, create a soft, rounded heart shape, with a lip brush, to finish the look.
The key to this entire make-up look:
Is blending. Blend, blend and blend some more. Then when you think you have blended as much as you possibly could, then think again.
Essential make-up brushes needed to create this look include our SS027 Syntho Dlx Blending Crease. You can see Lisa using this to blend out the bronzer across the eyes and above the brow. This brush was also used to layer on the different shadows to complete the hollowed out eye socket illusion.
To add further depth the C431 Precision Pencil was used, again see this in action above.
For those with a keen eye, you would have also spotted our Mixing Tray in action as well as Zoe using our brush belt to store all of her tools. Check out our Accessories section here – everything you ever needed for your professional make-up kits.
Lisa Potter Dixon is a huge fan of our make-up brushes and you can see them all in action over on her YouTube channel here.
What were your favourite looks from this season?
The post London Fashion Week Backstage with Sophia Webster & Benefit Cosmetics appeared first on Crown Brush News & Events.