How To Contour Correctly
Posted on August 03 2016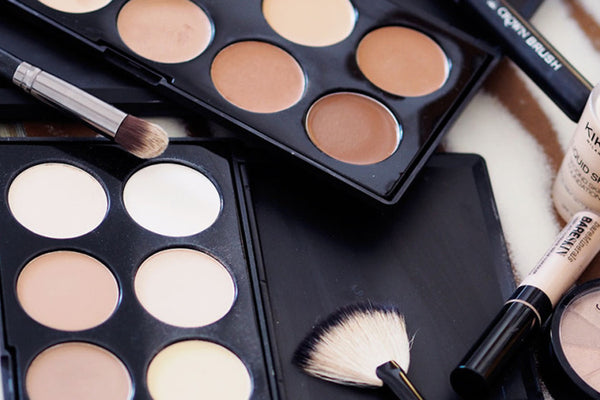 I'm taking over the Crownbrush blog today, and I am here to talk about the Art of Contouring and how to contour correctly. By this I don't mean painting lots of multi coloured stripes, dots and triangles over your face. I'm saying you don't need to use thousands of different products to be able to contour. I truly believe Kevyn Aucoin would be turning over in his grave if he could see some of the disaster YouTube tutorials out there telling you how to contour correctly.
All contouring really is, is creating shadow and light on your face, to enhance and add extra dimension. Yes, you can use it to change your features slightly, but the idea isn't to change your face completely.
Where to begin Contouring Correctly?
When you apply foundation, with it being one singular colour, it takes away any real dimension, and gives your skin a feeling of being flat. A decent foundation will hide any imperfections, take down any redness and add a bit of glow to your skin – or mattify it depending on what finish you want. However, the one thing it will not do, is add shadow or light. This is where contouring comes in, it brings your skin back to life. 
Always pick a shade that is 2-3 times darker than your skin. Whatever product you use, cream, liquid or powder, for adding shadow "contour" always go a few touches darker than your natural skin colour – Your base colour. You can use the above guide to give you an idea of where to put this shade. I like to apply contour to the hollows of your cheek bones, down the sides of your nose and along the tip, as well as across the forehead slightly and a touch underneath the jaw line. All of these are areas where you would naturally carry shadow, you are simply just accentuating them.
TIP: When using cream or liquids, use a synthetic brush rather than a natural hair brush.
Contour Correctly also means you Highlight!
When contouring, you also need to highlight (also known as strobing) the areas where light naturally hits your face – these are usually the highest points. Choose a colour that is 2-3 shades lighter than your base colour, and take this across the top of your cheek bones, down the bridge of your nose, and other areas down the centre of your face.
What product do you use to contour & highlight?
You can use foundation, but we recommend using concealer – check out our 10 Colour Concealer Palette available both in powder and cream.
What is the difference between powder & cream contouring?
When you use cream or liquid to contour your skin it is going to give you a heavier make-up look than that of powder contouring. You can achieve a much more natural finish when using powders.
What comes first concealer, your foundation or the contouring?
I like to apply the foundation first so that I have a blank canvas to work upon, I then would use two different concealers (the dark and the light) and then apply these sparingly – building up slowly to a finish I want.
What is the most important part of contouring?
BLENDING! You need to ensure there are no obvious lines when applying the contour and highlight. I love the Duo Fibre brushes to blend with.
Make sure you check out the BRAND NEW RANGE, THE CROWN PRO BRUSHES– they are amazing and this range has a great selection of make-up brushes you can use to contour with!
For further tips and tricks check out the Contouring video over on the Crownbrush YouTube channel. 
See you guys soon,
Zoe x
The post How To Contour Correctly appeared first on Crown Brush News & Events.