3 in 1 Concealer Corrector Foundation Palette
Posted on June 18 2013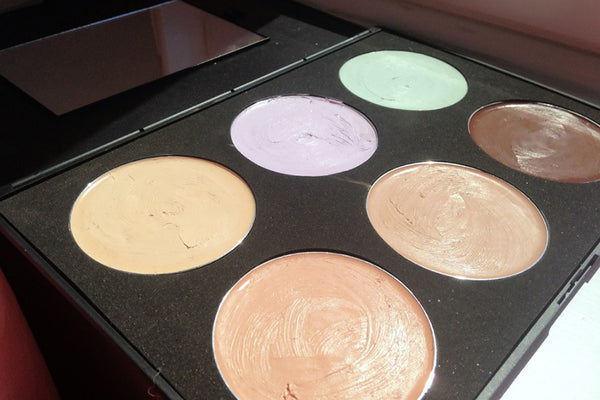 I am in love with this Crownbrush 3 in 1 Concealer Corrector Foundation palette. With a cream texture which helps blend easily to instantly cover and brighten dark circles flaws or uneven areas. Helps mask pimples and other small blemishes visible on the skin.
Lets take a closer look at the Concealer Corrector Foundation Palette
Containing six different cream based concealers, the Concealer Corrector Foundation Palette allows you to combine shades to create the perfect one for your skin tone if you wish to use for foundation application. The concealers offer full opaque coverage and are easy to apply and blend with a synthetic Crownbrush concealer brush. This is a great palette for everyday use or by makeup artists. The palette comes in matte black case which contains a mirror and is ideal for travel.
Before re-touching and airbrushing existed, top makeup artists achieved complexion perfection with Technicolor powders and creams. Brightly-hued concealers camouflage uneven skin tones in a snap. While the effect seems magical, the trick is simply a matter of understanding how different shades in the rainbow cancel each other out.
Concealer Corrector Foundation Palette Swatches:
Our guide to colour correcting makeup using the Concealer Corrector Foundation Palette:
Green:
If you're acne-prone, opt for the mint green corrector to neutralize too much flush. Green is great for covering any redness on the skin such as a blemish or rosacea.
Lilac:
During the winter your skin loses its sun-kissed glow, and your face can appear sallow and dull. The lilac colour mutes these yellow undertones. Just like bronzer, you should apply the lavender tint to areas where the sun would normally hit your face: cheekbones, nose, and chin.
Pink Tone:
While many factors contribute to dark under-eye circles, naturally thinner skin around the eyes reveals noticeable veins we'd like to cover up. A peachy-pink corrector is perfect for brightening the eye area.  If you have more yellow or green-toned shadows, opt for a pastel pink corrector. First apply a base concealer, then dab a rosy hue directly over bags to erase bold, blue capillaries and reflect light like a highlighter would.
Have you tried this palette yet?
Shop the Concealer/Corrector & Foundation Palette
The post 3 in 1 Concealer Corrector Foundation Palette appeared first on Crown Brush News & Events.