504 Brush Set Review
Posted on April 04 2013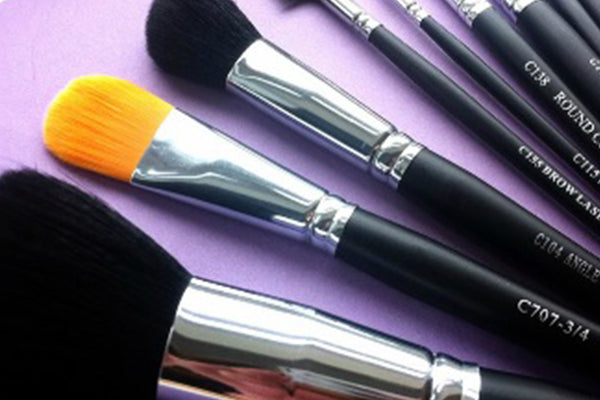 The 10 piece Crownbrush 504 Brush Set  is an assortment of hand-crafted brushes with silver plated ferrules taking from our best-selling extensive Studio Series brush set and comes in a deluxe carrying case, perfect for traveling and storage. The larger powder and blush brushes are made of our Sable and Goat blend, the shadow brushes are made with Sable Blend bristles and the foundation and liner brushes are made with our exclusive Torray Taklon. This is a perfect starter set for make-up artists and non-professionals. Everything you need for a luxurious makeup application. So now lets look into the 504 Brush Set.


The 504 Brush Set includes the following brushes:


Jumbo Powder Dome – C107:

The perfect large brush for even powder application.


Taklon Angle Brush –C160-1/8:

This brush has so many uses in my eyes! It can create precise lining which moves fluid easily across the upper and lower lash lines using gel, cream or powder liners- Also works great with lipstick and getting precise lines on lip application. I also think it's great to get precise eyebrow application with powder too.
Medium Oval Foundation – C707-3/4:

Designed to apply cream and liquid foundation as well as primer for a smooth base application.
Brow/Lash Groomer -C155:

This is an essential in my make-up kit and is designed for defined, separated lashes and beautiful groomed brows!
Taklon Pointed Liner – C250-0:

A very small eye liner brush! In fact the detail I can create with this brush is un-real and so firm. You can get precise application of liner using gel or liquid liners.
Oval Taklon- C170-6:

Designed for precise application of lipstick onto the lips. You can use the firm edge to define and contour the lips.
Round Contour Shadow- C138:

I call this brush a 'Pencil' brush. Perfect for soften and smoke out lines. Soften pencil liners along the top and bottom lash lines, add shadow to line the eyes, or use to highlight inner corner of eyes to make the eyes pop!
Round Oval Shadow-C135:


Designed for even application of eye shadow. Place colour across the whole lid for an even and strong application of product.
Pro Spoolie- C115:

A spoolie brush is designed for your lashes and brows. The full head tapers to a point for easy use on any length or lash thickness.
Angle Blush- C104:

A small angled Contour blush brush designed for subtle powder cheek application. Use the angle to softly contour the cheekbone.
The post 504 Brush Set Review appeared first on Crown Brush News & Events.