Get Ready For Summer
Posted on June 18 2015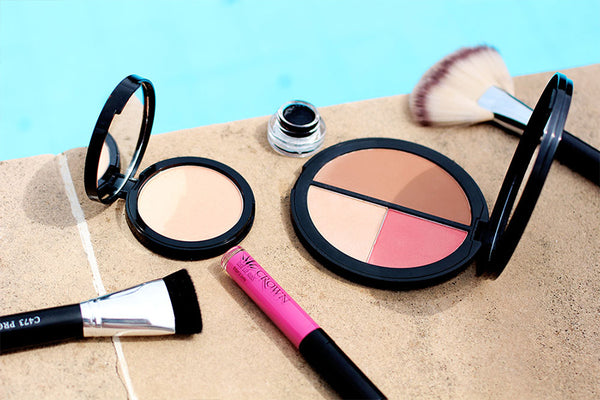 This Summer make sure your make-up bag doesn't miss out on all of our new Summer makeup launches. Our Blush! Bronze!! Illuminate!!! is a trio packed with punch. The matte, buildable bronzer is perfect for enhancing your golden glow, while the coral pink blush adds a pop of colour to the apples of your cheeks. Of course, you also need a highlighter, and this one has a gorgeous champagne iridescence that will sparkle in the sunlight.
We also have two new individual bronzers to add to the Crown Make-up Collection. One a buildable matte bronzer, the other a light, shimmery bronzer. Apply either one of these using our Studio Pro Contour brush, great for sculpting and defining cheek bones.
Have you heard of the new technique Strobing? If contouring is not for you, strobing is where you just use a highlighter on the parts of your face where light would naturally fall. So your nose, cheekbones, brow bone and chin. Use either our Illuminating Liquid Highlighter or the Sunkissed Bronzer to create this effect.
We also have a whole new selection of eye liners for you to play with, from Liquid Glitter Eye liners, to your classic pencil, to the pots of gel liner.
Last but certainly not least, say hello to our Crown Lip Glosses. There is a selection of 15 shades to choose from Urban Pink, a great every day pink-y nude, to Diablo – bold pillar box red.

The post Get Ready For Summer appeared first on Crown Brush News & Events.