Perfect Brows with The Crownbrush Eyebrow Palette
Posted on May 21 2013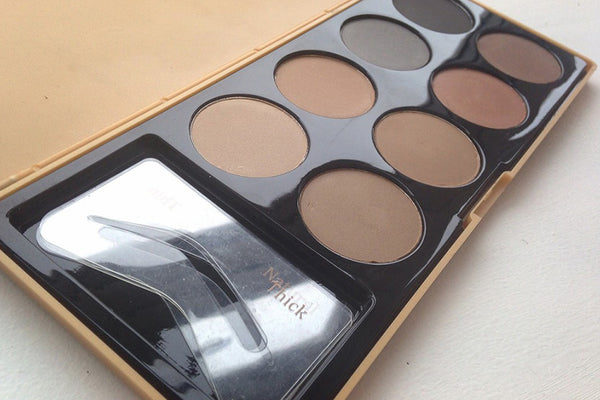 Whats in the Crownbrush Eyebrow Palette
The Crownbrush Eyebrow palette only £19.99 comes with 8 long-lasting, anti-smudge powders that will stay fresh for up to 24 hours, in one sleek professional set with a Leopard print design. The shades featured are to suit everyone and can also be used as eyeshadow application.
The carbon shadow included helps to create a natural daytime style, as well as a dramatic smouldering look.
The set is suitable for all hair colours which can be mixed by using the eight eyebrow powder shades for a customised colour, it then gives you the option to choose from a selection of two brow stencils for your desired.
Eyebrow Stencils Included: 
Eyebrows and lips are one of my favourite features to work on when creating different make-up looks on my models.  I meet so many models that are unhappy with their eyebrows and who find the process of creating that perfect arch a daunting, mainly this is due to over-plucking their brows because they are unsure of where a brow should start and end.
Behind the scenes for Luke Woodford's Abandoned Fashion Series. Image by Ian Greenland
Shaped brows can take years off your look and I think woman should spend time on their brows as eyebrows frame the face.
With the Crownbrush Brow Palette which includes three style stencils it's easy to use. You simply have to align the stencil where you wish to create your eyebrow design and shade in two beautiful brows.
Finished look behind the scenes using Crownbrush Eyebrow palette
All three sizes create classic, elegant brows that will suit all face shapes and sizes, And if you want to extend the brows you can simply extend the design after the stencil have been removed free hand with an eyebrow brush.
Swatches of the Brow Palette:
Have you used the Crownbrush Palette yet? Shop Here
The post Perfect Brows with The Crownbrush Eyebrow Palette appeared first on Crown Brush News & Events.